VISA OR NO VISA?
You do not need a visa if you come from the European Union, most other European countries, the U.S., Canada, Cyprus, Israel, Georgia and members of the Commonwealth of Independent States — that is, former Soviet countries. You can stay on your passport up to 90 days every six months.
Foreigners entering Moldova through Transnistria should register within 72 hours of their arrival at the Ministry of Information Technology and Communications on M. Kogalniceanu St. in Chisinau.
The list of countries whose citizens do not need a visa to enter Moldova is available on the website of the Ministry of Foreign Affairs and European Integration: https://mfa.gov.md/en/content/types-visas-requirements
CUSTOMS
If youenter or leave Moldova with less than 10,000 euros in Moldovan or foreign currency, you don't need to declare it with Customs. Amounts more than that must be declared.
You must also declare art, historical artifacts, weapons, ammunition, explosives, toxic and dangerous substances, and some other materials. Moldova allows you to bring in items purchased in duty-free zones without paying a duty. They include:
Tobacco: 200 cigarettes (one box) or 40 cigars
Alcoholic beverages: two liters of wine or two liters of spirits, or five liters of beer
Gifts whose total value does not exceed 300 euros
Medicine for personal use
CURRENCY
Moldova's currency is the leu, whose plural is lei and whose international symbol is MDL. One leu contains 100 bans.
FOREIGN EXCHANGE
It's not complicated to get lei when entering Moldova. Foreign currencies can be exchanged for lei at banks or currency exchange offices. You will find those offices at the airport, in hotels and on the streets of most cities. Most of the exchanges handle such major currencies as the euro, dollar, British pound, Swiss franc, Russian ruble, and Turkish lira, and currencies of neighboring countries, such as the Romanian leu and Ukrainian hryvnia. You can find official exchange rates on the Moldova National Bank website (www.bnm.md)
ATMs
You will find ATMs at hotels, banks and shopping centers in Moldova's major cities and at Chisinau International Airport. Most offer services in Romanian, Russian and English. Smaller cities and villages have limited numbers of ATMs, so it's a good idea to bring cash when you go to a rural area.
CREDIT CARDS
Major hotels and car rental agencies in Moldova, and many stores and restaurants in Chisinau, accept leading credit cards, such as Visa, MasterCard, Maestro and American Express. But a lot of businesses inside and outside Chisinau only take cash. And credit card use in rural areas is almost non-existent.
When you do make a card purchase in Moldova, you are likely to be asked for your PIN number. It's a good idea before coming to Moldova to ask your bank not to put a security hold on your credit card transactions simply because you are in an Eastern European country.
BUDGETING
Tourists are surprised — and delighted — at how inexpensive Moldova is. Prices are much lower than in Western Europe, North America or even large cities in the region, such as Moscow, Kiev and Bucharest. Examples:
A five-star hotel room typically costs 150 euros, and a two-star hotel 30 euros.
Dinner for two, including drinks, in a luxury restaurant is typically 50 euros
A bottle of good Moldovan wine — and the country produces some of the world's best — is around 12 euros
A bottle of Moldovan brandy is about 20 euros
A bottle of local beer is 2 euros
A visit to a museum costs 1 to 2 euros
A theater ticket runs from 5 to 10 euros
A trolleybus costs a tenth of a euro
A taxi trip from one end of Chisinau to the other will usually range between 3 and 5 euros
A liter of regular gasoline will be about 0.85 euro
TRANSNISTRIA
Foreigners can enter Transnistria by filling out two copies of a short form, which they must give to border police along with their passport. The police stamp one of the entry forms, but not the passport, then return both papers to the visitor. The stamped form must be handed over to border authorities when the visitor leaves Transnistria.
ACCOMMODATIONS
Chisinau boasts everything from five-star accommodations to 85 budget hotels.
If you want to explore rural areas, you can find cozy pensions with good food, unspoiled nature and fun activities at this link.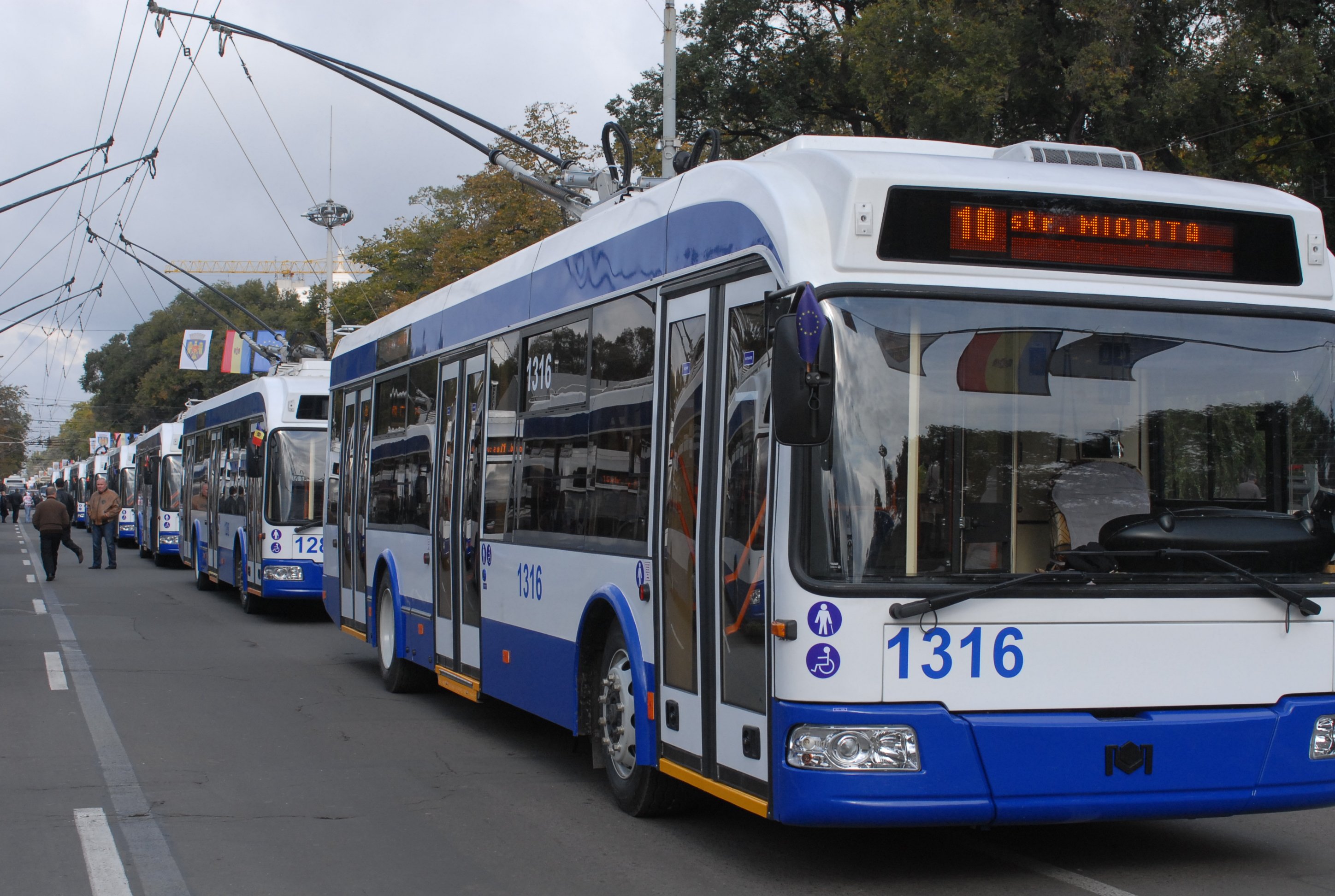 TO AND FROM AIRPORT
It takes about 25 minutes by taxi to go the 13 kilometers from Chisinau International Airport to the center of Chisinau. The cost is about 80 lei, or $5.
You can also take the 165 bus for 3 lei or trolleybus number 30 for 2 lei.
WITHIN CHISINAU
Public transport in Chisinau is excellent, covering much of the city and running often. It includes trolleybuses, buses and minibuses. A trolleybus is 2 lei and a bus or minibus 3 lei. You pay when you get on.
If you want to find out what public transportation routes are available in your locations it is recommended to check the mobile applications: map.md (iOS, Android), moovit (iOS, Android)
You can also use one of the taxi services: 14000, 14111, 14222, 14333, 14999, 14441, 14442, 14447, or 14448.
You can summon a taxi with the mobile apps: itaxi (iOS,Android), Yandex Taxi (iOS,Android)
For the driving guest of Chisinau is best to use the live navigation and traffic application waze (iOS, Android), or the application map.md (iOS, Android) embedding exact locations of streets and house numbers from the capital many other cities.
ACROSS MOLDOVA
If you want to travel across Moldova, depending on your destination, you can take:
MINIBUS OR BUS:
Central Bus Station: (+373) 22 542 185 https://autogara.md/
North Bus Station : (+373) 22 439 489 http://www.garanord.md
South Bus Station : (+373) 22 723 983
TRAIN
Chisinau Railway Station : (+373) 22 83-33-33 http://www.railway.md/
CHISINAU TOURISM INFORMATION CENTER
Facebook: https://www.facebook.com/MoldovaInfoCenter
Email: info@moldova.travel